I just spent the last week testing the VuPoint PDSDK-ST470PU-VP Magic Wand Portable Scanner for quality, speed and ease of use. The VuPoint Solutions Magic Wand scanner exceeded my expectations in every area of testing and earned a coveted 5-star rating.
This powerful little portable color scanner measures 10.5″ x 1.1″ x 1.5″ without the docking station and only 13.2″ x 3.2″ x 2.1″ when attached to the sleek docking terminal.  This amazing product allows you to scan from anywhere, without being connected to a computer and provides you with 300 DPI, 600 DPI, 1050 DPI color resolution without docking and a hefty 1200 DPI color resolution when scanning while docked.
[edsanimate_start entry_animation_type= "fadeInRightBig" entry_delay= "0" entry_duration= "0.5" entry_timing= "linear" exit_animation_type= "bounce" exit_delay= "0" exit_duration= "0.5" exit_timing= "linear" animation_repeat= "1" keep= "yes" animate_on= "load" scroll_offset= "" custom_css_class= ""]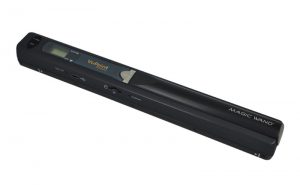 The scanner also comes bundled with a great software program, valued at $99.99 from Nuance, called PaperPort 14, as well as ABBYY FineReader 9.0 Sprint PDF reader.  This great software is perfect for organizing documents, contracts, receipts, bills, forms, photos, business cards and keeping them in one easy to find location.
Having this scanner in my office has helped my busy staff to be more productive and digitally organized. The wasted time spent keeping track of paperwork is now spent on our customers.[edsanimate_end]
PRODUCT REVIEW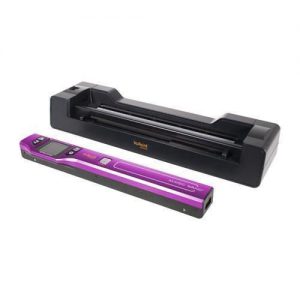 At time of testing the VuPoint PDSDK-ST470PU-VP Magic Wand Portable Scanner and docking station cost only $99.99, down from $129.00, including FREE shipping. A Black version of this portable scanner retails for only $70.99 on Amazon, with FREE shipping.
This includes $99.99 worth of PaperPort 14 software, USB cable and charging adapter, cleaning cloth for scanner glass.
NOTE: A microSD card is not included, but a 32GB card retails for between $6.90 and $12.84 on Amazon.  A 1GB microSD card will hold approximately 150 High Resolution Color scans
KEY FEATURES
JPEG, PDF-A4 or PDF-Letter scan-format selection.

Color or Monochromatic (mono) scan selection.
300 (LO)/600 (MI) /1050 (HI)/1200 (HI) DPI scan quality selection.
Directly save JPG (JPEG)/PDF files to the microSD/microSDHC card.
Support microSD/microSDHC memory card up to 32GB.
Color display to playback the scanned images
Compatible to Windows® XP, Windows® Vista™, Windows® 7, Windows® 8, and Mac OS® 10.5 or above (direct plug-in, driver installation not required)
SPECIFICATIONS
 Dimensions
 13.2″ x 3.2″ x 2.1″ with docking station / 10.5″ x 1.1″ x 1.5″ without
 Weight
 1.4 pounds
 Model Number
PDSDK-ST470PU-VP
 Resolution
HIGH 1200×1200 DPI (when docked)
HIGH 1050×1050 DPI (when portable)
MEDIUM 600×600 DPI
LOW 300×300 DPI
 Scan Speed
High Resolution (Color) 12 seconds
Medium Resolution (Color) 9 seconds
Low Resolution (Color) 8 seconds
 Scan Width
 8.5″
 Scan Length
 45″ long (1200 DPI) to 125″ long (300 DPI)
 Document Size
 A4、A5、5R、4R、3R and below
 File Format
 JPEG/PDF
 LCD
 approximately 1.5″ – Color Display
 Portable Scanner Dimensions
 10.5″ x 1.1″ x 1.5″
 Auto Power Off
 3 minutes
 USB Port
 USB 2.0 high speed
 External Memory
 microSD/microSDHC Card
 Rechargeable Battery
 Built-in 700mAH Lithium-Polymer
FINAL COMMENTS
I experienced a couple of minor issues that should be noted, but in no way change my opinion of this amazing product.
The handheld scans took me about a dozen practice passes before I was able to work out the movement and stability.  I was able to get perfect scans with a 12 second count per page and a steady hand.
The scanner would not always automatically feed paper while the USB cable was connected to computer. I had to attach the USB cable to the wall adapter to get consistent automatic feeding of paper.
Overall, I would recommend this product to anyone who needs a powerful scanner that is not only portable, but takes up no space in your office.  I am so impressed with VuPoint Solutions and I believe that every office needs this product.
DISCLAIMER
OceanParadise Media Group received no compensation from VuPoint Solutions for the product we reviewed, but we did receive the product at no charge for the purpose of testing. We test each product thoroughly and give high marks to only the very best. We are independently owned and the opinions expressed here are our own.