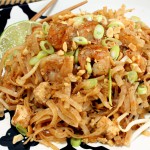 Koon Manee Thai & Sushi Restaurant is one of the best Thai/Japanese Restaurants in South Florida. This quiet spot has the perfect blend of the best of Thai and Japanese cuisine. Not only is the food outstanding, but the service is always exceptional and this family run location is always clean and well maintained. There is seating for all occasions, whether you are a party of two, or twenty. If you want to be entertained while dining, you can sit at the Sushi bar and watch your dinner be prepared in front of your eyes.
The menu is full of delicious choices, that will make you want to return each week to try them all and the quality of the food and freshness of the vegetables are proof that this family knows how to make their customers happy. The sushi is made-to-order and the portions are always large and the prices for any of the dishes are reasonable.
When you visit, make sure to try the Hosomaki Combo, Pad Thai, or Pad Woon-Sen.
The restaurant is hidden in the Publix plaza on Indiantown Road and Alt A1A, but that doesn't mean that it is empty. Get there early on Thursday, Friday, or Saturday, because there will be a waiting list until after 7:00 pm.
CONTACT INFORMATION:
Address: 17370 Alt A1A, Jupiter, Florida 33477, Jupiter, FL 33477
Phone: 561-747-2836
Hours:
Lunch Hours: Mon-Fri – 11:30-2:30
Dinner Hours: Mon-Sun – 4:30-9:30
Visit the Restaurant website here…Koon Manee Thai & Sushi Restaurant