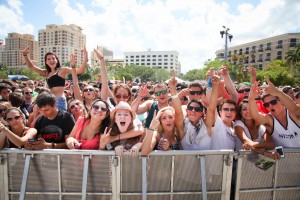 Sunfest April 29 – May 3, 2015
Sunfest is back and this year will be another big event!
Sunfest is celebrating it's 33rd year as Florida's largest waterfront music and art festival, with a rich assembly of performers.
While the talent keeps changing, the venue remains the same, with three stages spread out along Flagler Drive from Banyan Boulevard to Lakeview Avenue.
This year's event will host a diverse selection of entertainers, with a nice blend of current favorites and former legends. Some of this year's performers include:
Boston
Lenny Kravitz
Paramore
Sammy Hagar and the Circle
Fall Out Boy
Eddie Money
John Cafferty & The Beaver Brown Band
Hozier
Damian "Jr. Gong" Marley
Lindsey Stirling
Click here for a full list of performers at this year's event.
Be sure to book your tickets early because 2015 will likely be another record breaking year. Click here for Sunfest 2015 tickets.
Visit the Sunfest Official website for more information and follow on Facebook and Twitter to make sure that you are receiving updates.